CSc 101: Car Drive
In this assignment, you will write a processing program that generates a very simple animation of a car driving. Below is an example of what the finished product should resemble: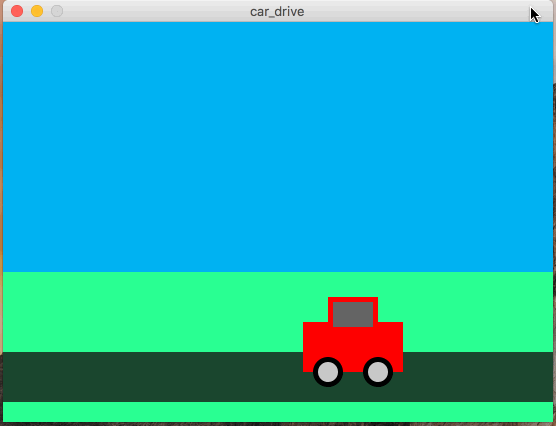 Notice several things about this animation, which you should mimic:
There are several items on the screen that do not move. The sky, the ground, the road, and the car.
There is one tree that moves across the screen, and 5 birds. Even though the car is not moving, when the other shapes move, it (sorta) makes it look like the car is actually progressing forwards.
The tree and birds begin off-screen, and move across once from left-to-right.
The birds move at a slightly faster rate than the tree does.
The tree and birds only need to "cross the screen" once.
You should use lines or custom shapes for the birds. The car must have at least a body, wheels, tires, and a window. If you want, you can make the car, birds, or tree much more detailed and intricate.
Name your file car_drive.pde.
Programming strategy
You should start by just getting the static (non-moving) parts of the drawing on the screen (The sky, earth, road, and car). Once you have this, work on the tree movement first. The tree might be a little easier, since you don't need to repeat anything.
Lastly, do the birds. There must be 5 birds, and they must be "repeated" using a for-loop.
All of your programming should be well-formatted and easy for the graders to read and comprehend. You should follow the style guidelines that we have discussed in class. Each program file should have a header comment at the top that has roughly the following format:
//
// Author: Student Name
// Description:
//    A short description of what this program does!
// 

Submission and grading
It is due on 2/9/2018 at 5:00pm.
Turn in each of the files described in the spec (1 total) the assignment 4 dropbox in D2L before the due date. Make sure to name the files exactly as this document specifies. In general, make sure to follow these instructions precisely.